Rubber Deck Coating
 – Textured, waterproof defense as easy as 1, 2, 3.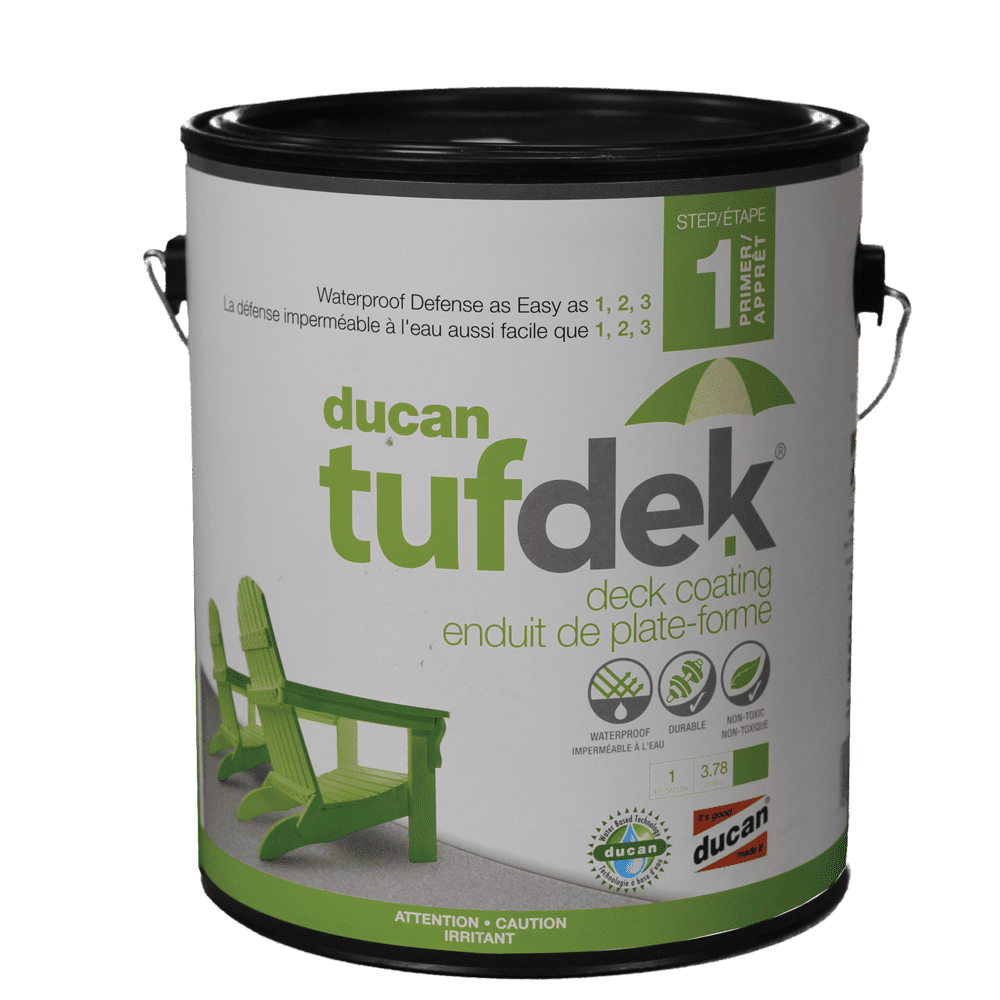 TUFDEK
Protective Deck Coating System
A waterproofing primer that promotes greater adhesion.
A waterproofing Neoprene rubber, slip-resistant texture layer that is both durable and flexible.
An acrylic, UV protective, water-based, tintable coating for durability and beauty.
TUFDEK
Materials Calculator
Tufdek Materials and Cost Calculator
Materials Calculator
Enter length and width of your deck to get a materials estimate:
Tufdek
Protect with 3 easy steps.
Tufdek® is a superior, non-toxic water-based coating system that provides long-lasting protection from water, sunlight and every day spills. The permanently flexible, protective and skid resistant coating system is scientifically formulated for all weather exposures and everyday use. Tufdek® provides superior performance over decks, docks, ramps, walkways, raised concrete decks and many other surface applications. In 3 easy steps, your exterior surfaces will be waterproof, UV-protected, and slip-resistant. Not only does Tufdek® offer durable protection for your deck surface, it also offers design flexibility. The Step 3 Colour Coat is tintable to 6 attractive colour options, leaving you with a beautiful deck that is sure to match any building exterior.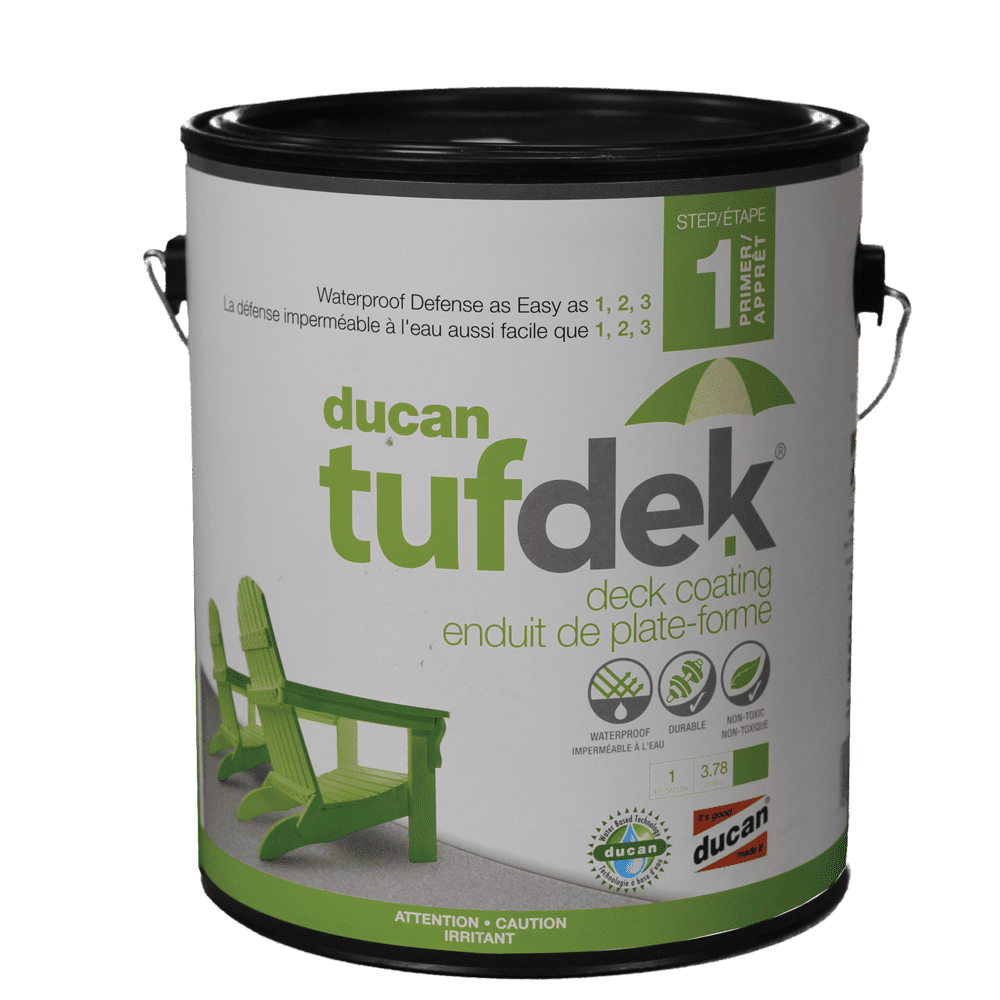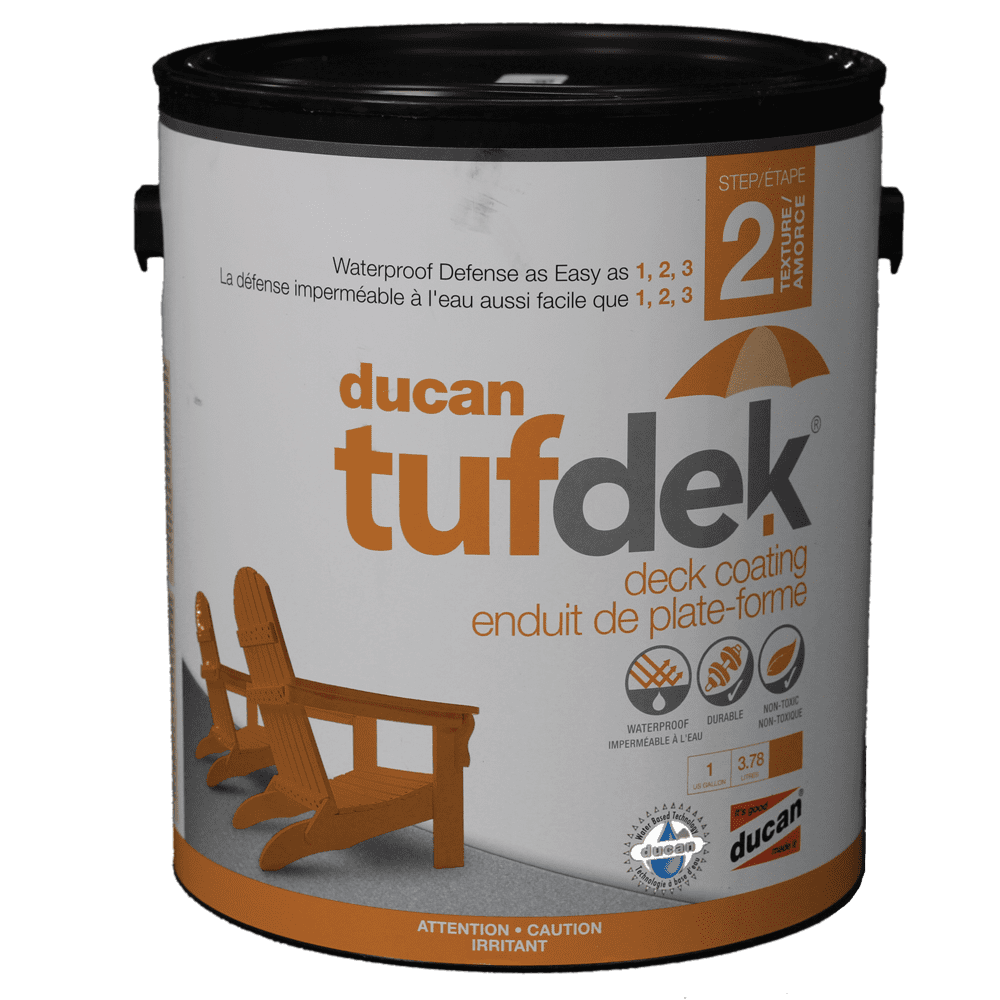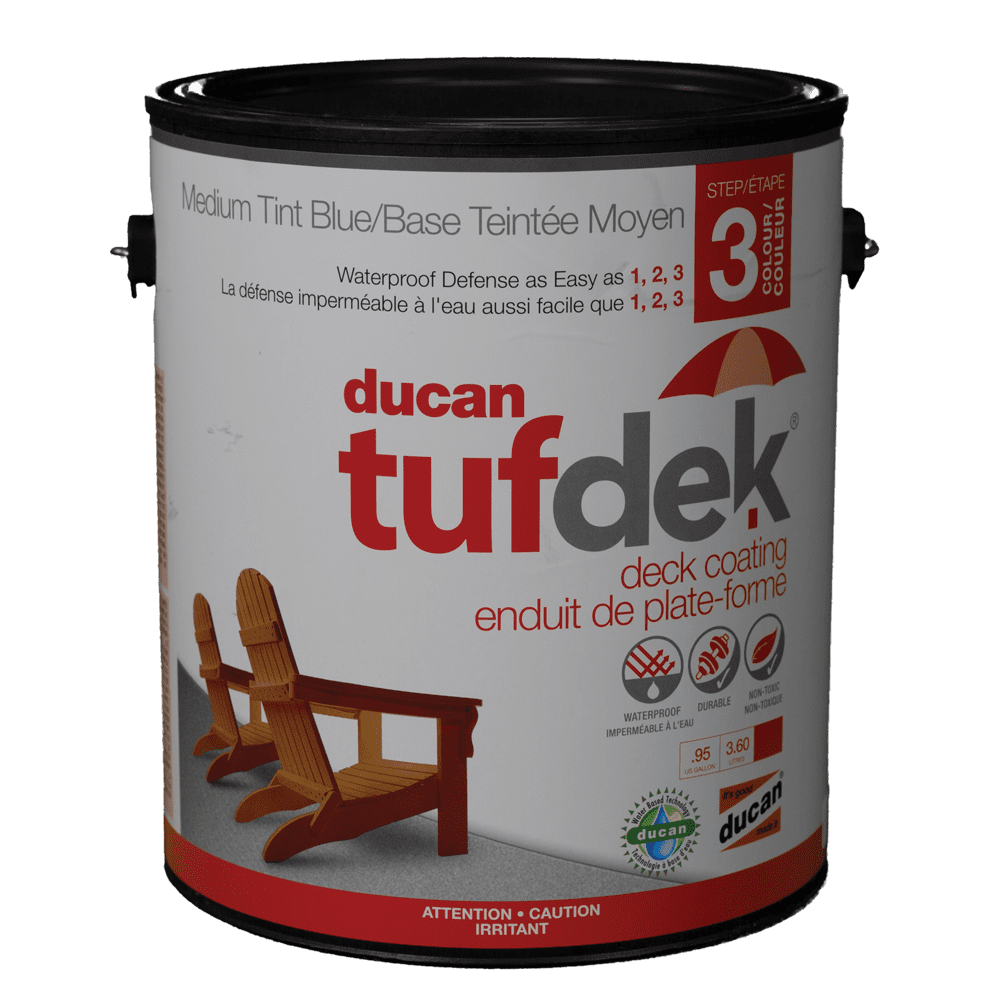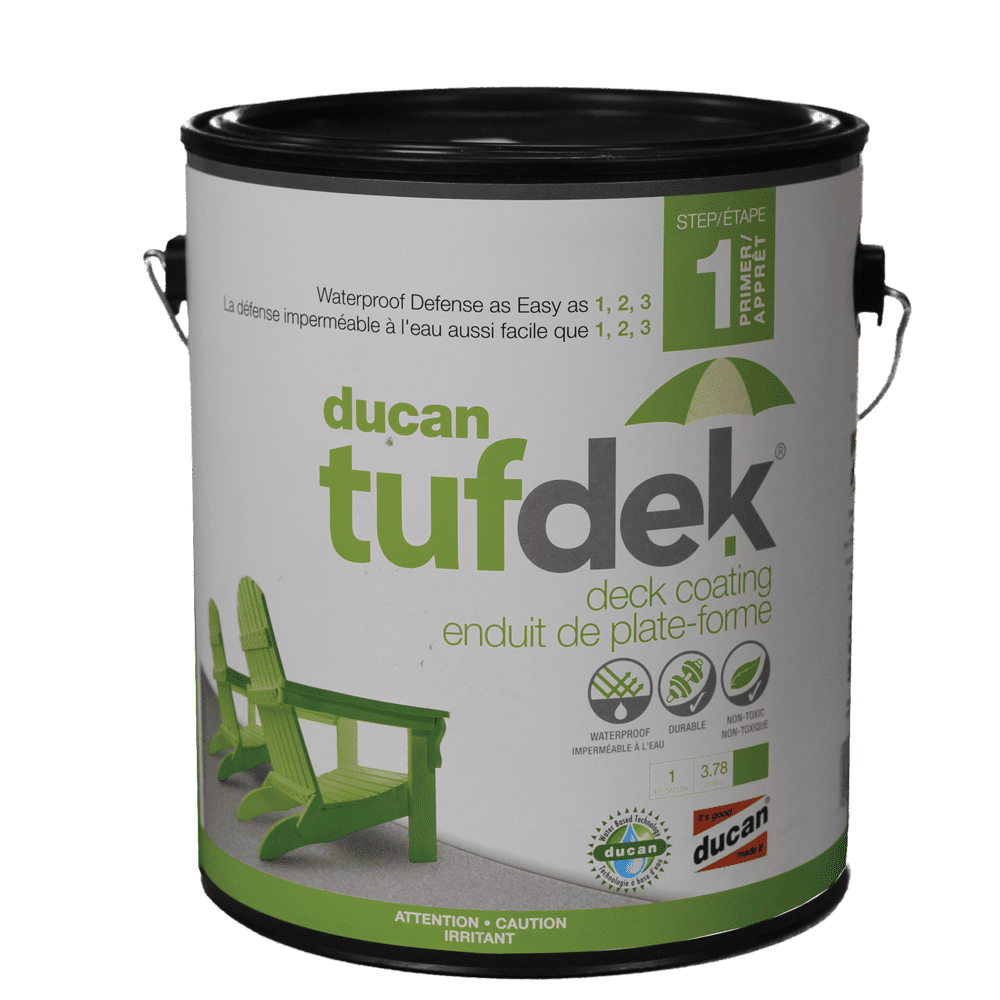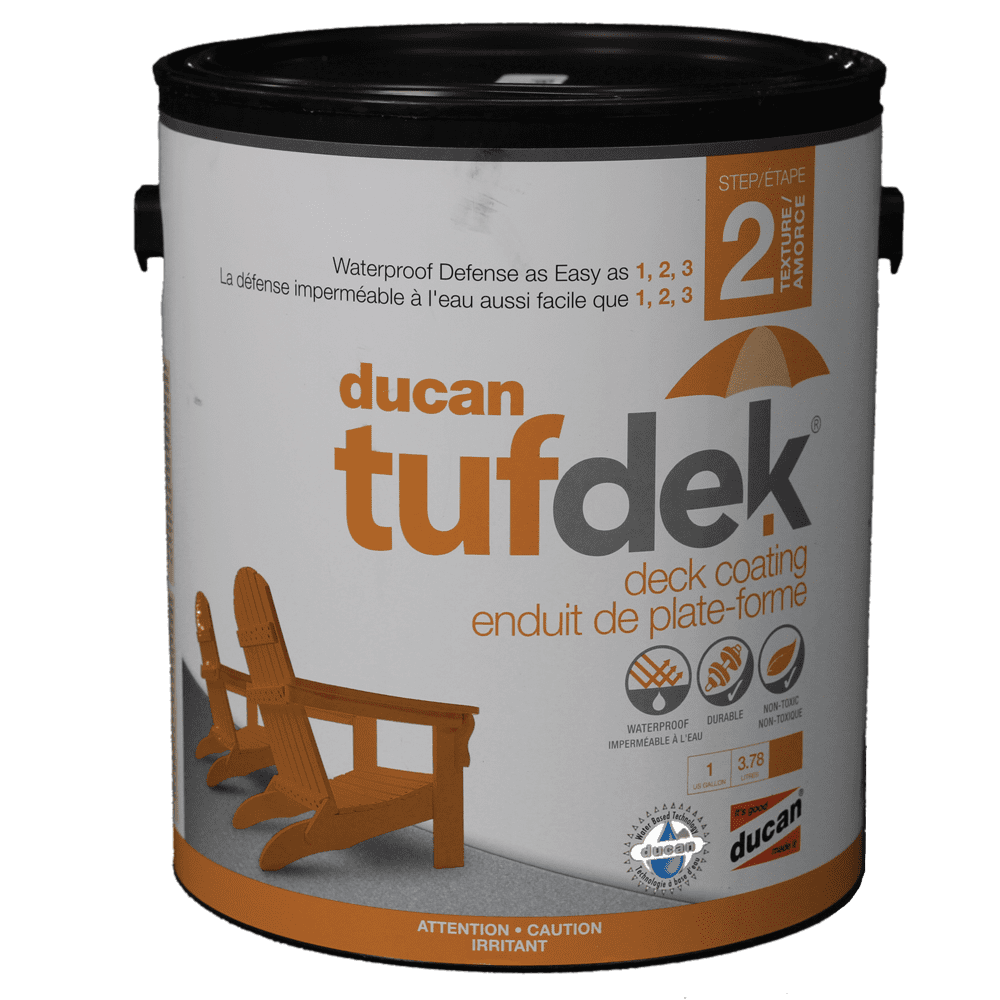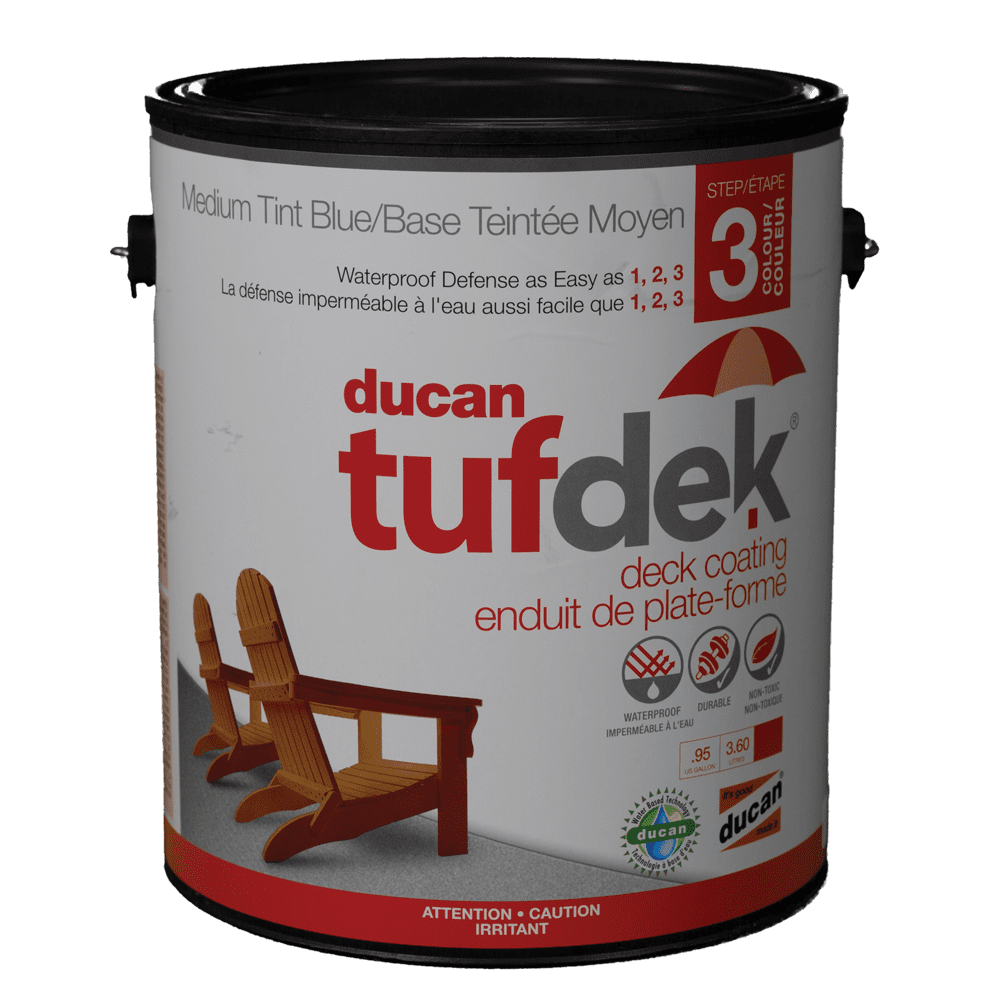 Non-Toxic
Tufdek® is safe for children, pets, and the environment. The high-performance water­based solution is very low odour and is VOC (volatile organic compound) compliant with the Canadian Clean Air Act and the U.S. EPA concentration limits.
Durable
Tufdek® is a durable, protective deck coating system that will resist water, sunlight, weather damage, and wear and tear. The three-step coating system is designed to permanently adhere to high-traffic surfaces like new plywood, fiberglass, above-ground concrete, and metal. Tufdek® is permanently flexible and will expand and contract with the substrate below.
WATERPROOF
Tufdek® is waterproof to protect surfaces from moisture damage. With regular maintenance, plywood decks will not rot, and metal surfaces will not rust, providing your surface with long-lasting protection that is second to none.
slip-resistant
Tufdek® incorporates rubber non-skid particles for a safe and slip-resistant surface – even in wet weather condi­tions. On plywood decks, the slip-resistant coating also offers protection from painful wood splinters, which is typical of slotted wood decking.
low maintenance
Tufdek® is easy to clean and requires minimal maintenance. It's mildew, dirt, and stain resistant and requires a quick cleaning just once or twice a year with Ducan The Duke® all purpose cleaner and degreaser.
design flexibility
Tufdek® Step 3 Colour Coat is a medium tint base and is tintable to 6 attractive colour choices. Consult your colour specialist at a Tufdek® dealer for more information on custom tinting.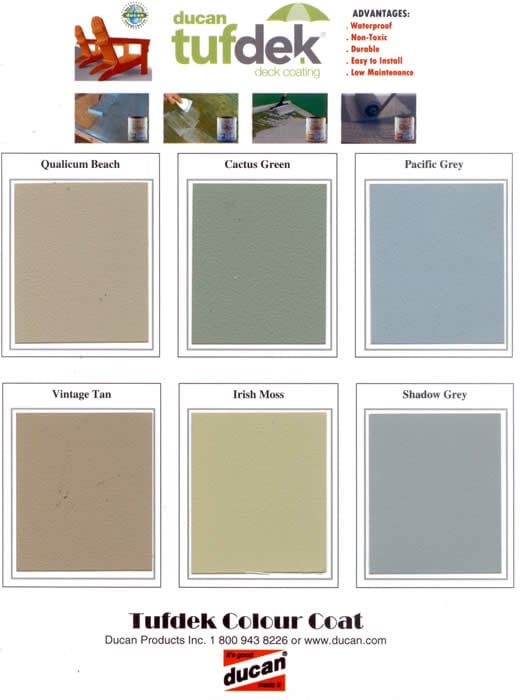 Tufdek® is recommended for:
New T&G plywood
Water based deck coating* • Metal surfaces
Aluminium surfaces
Above ground concrete
Pressure treated plywood
Neoprene® and Hypalon® deck coating*
Fibreglass
DO NOT APPLY Tufdek® over:
Slotted lumber boards
OSB or Chip Board
Old weathered plywood
Stairs
Silicone
Sheet vinyl
When unsure of the surface you are coating, we recommend doing a small test patch to ensure compatibility.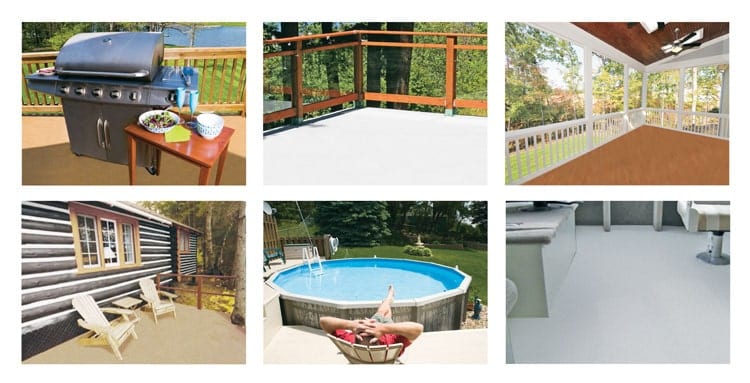 TufDek
Application Instructions
TufDek
Download Instructions
You can view the Tufdek® application instructions as an image, or download the PDF below.