Anti-Slip Safety Coating –  the sure footing you require.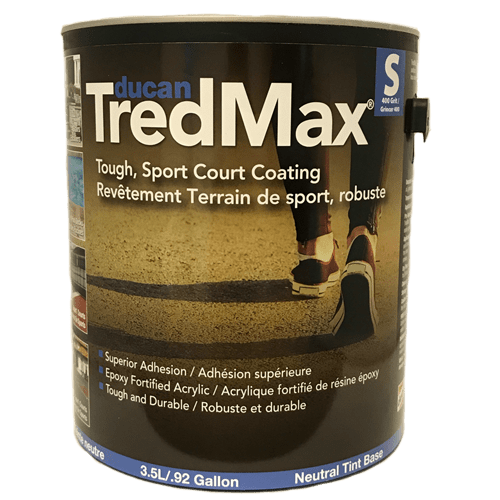 TREDMAX®
Anti-Slip Safety Coating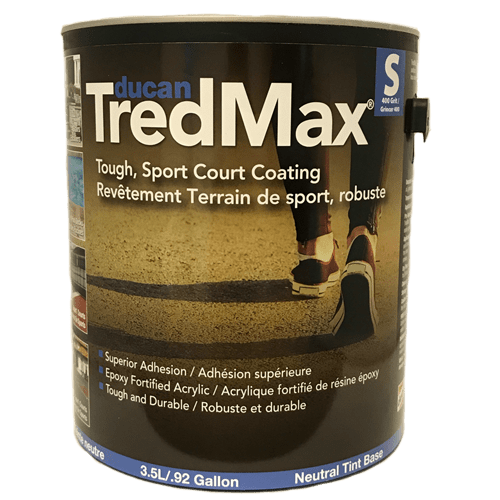 TREDMAX® SPORT COURT (NO GRIT)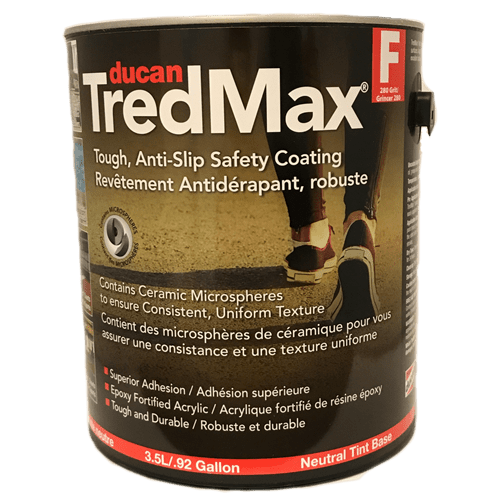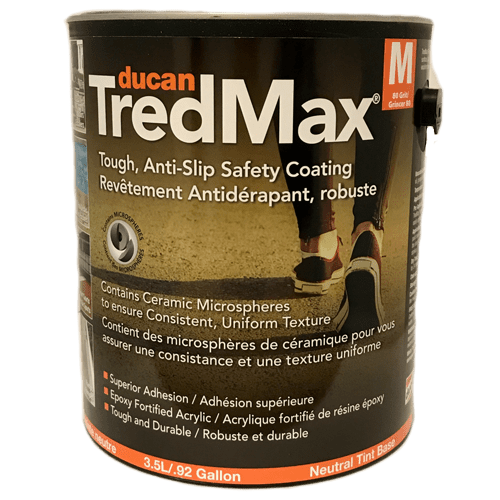 TREDMAX® MEDIUM (80 GRIT)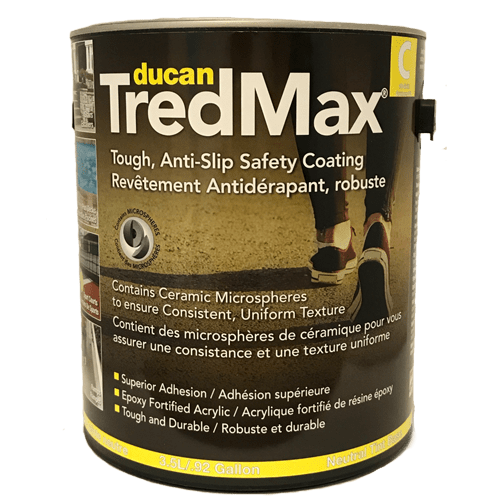 TREDMAX® COURSE (40 GRIT)
TREDMAX®
Four options for the perfect application.
 Texture additives, like walnut shell, silica sand crushed glass create an uneven, textured surface. With TredMax® you have perfectly round ceramic microspheres, which act as ball bearings during application. This prompts the texture in the coating to be evenly distributed across the surface. No more uneven streaking or clumps of texture! Once dried, TredMax® will provide you with the sure footing you require. TredMax® can be used for interior or exterior concrete, metal, wood or asphalt, to provide a durable, skid-resistant finish.
Apply to:
Patios • Wood Steps • Concrete Steps and Walkways • Sports Courts • Driveways • Service Ramps • Pool Surrounds •Tennis Courts  • High Traffic Areas or wherever traction is required.
TredMax® has excellent abrasion resistance to heavy foot traffic and is very resistant to ponding water. TredMax® has exceptional color retention, even in bright sunlight.
• Uniform Textured Appearance • Fast Dry • Durable • Easy Application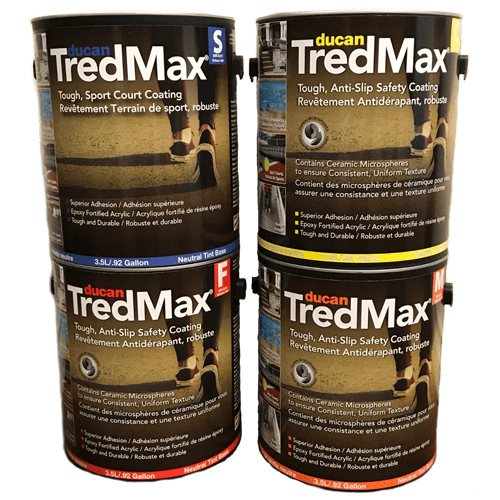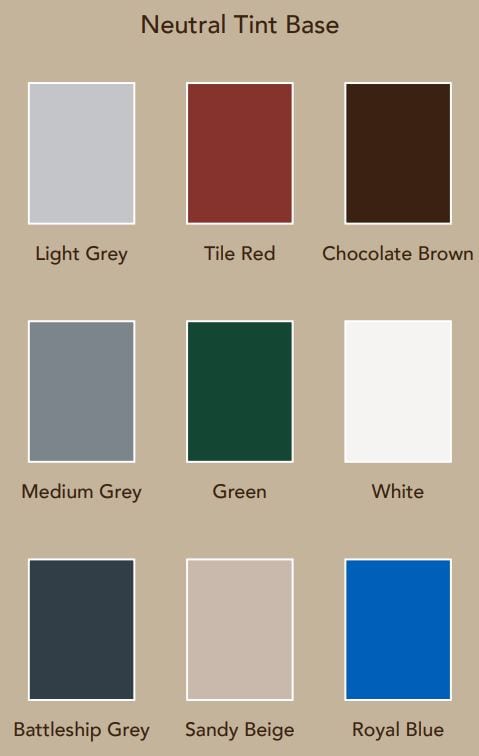 TREDMAX®
Application Instructions
Choose your texture: TredMax® comes in 4 different grits. Sport Court (Smooth), Fine, Medium and Coarse.
Apply to: Patios, Wood Steps, Concrete Steps and Walkways, Service Ramps, Tennis Courts • High Traffic Areas or wherever traction is required.
Surface Preparation: Masonry and Concrete – Allow all poured or precast concrete to cure for 28 days. Smooth, troweled concrete must be acid etched. Follow etching directions. Rinse thoroughly and allow to dry completely.
Previously Painted Substrates: Wash and rinse surface using the The Duke, Cleaner and Degreaser. Remove all loose and flaking paint. Sand all glossy surfaces to a dull appearance then remove sanding debris.
Uncoated Asphalt Surfaces:  New asphalt must be cured for 14 days (longer during cooler weather). Surface must be free of oil, grease and dirt. Clean surface using a power washer. Dry well.
Temperature: Apply when surface temperature is above 10̵°C/50°F. Do not apply if rain is in the forecast within 24 hours.
Application Rate:
| | |
| --- | --- |
| Select Grit | Coverage – sq/ft per US gallon |
| TredMax® SPORT COURT (400 grit) | 150-200 |
| TredMax® FINE (280 grit) | 100-150 |
| TredMax® MEDIUM (80 grit) | 80-100 |
| TredMax® COARSE (40 grit) | 80 |
Pre-Application Requirements: Intermix containers, if using more than one container. This is particularly important if the TredMax® containers have different batch numbers. Note: Batch numbers are located on the top of the lid. TredMax® can easily be applied with a quality paint brush or 3/8" nap roller.
Application Directions: Stir contents well, to ensure even dispersion. With a high-quality paint brush, pre-apply to small areas such as stairs or edges Attach Roller cage to extension pole. For main areas, pour TredMax® in a long continuous bead across the short side of the surface being coated. For uniform sheen and texture, roll product uniformly and finish with long, even strokes. Allow the first coast to dry completely. After 8 hours drying time, apply 2nd coat, if necessary. Apply at right angels to the first coat.
Dry Time: Dries to touch in 1-2 hours at the median temperature of 21°C/72°F. May be re-coated after 8 hours. No foot traffic for 24 hours.
Clean up: Clean tools and equipment immediately after application with soap and warm water.
Storage: Keep from freezing